Finance technologies are evolving fast and transforming finance from automated processes to autonomous functions. 64% of CFOs believe autonomous finance can become a reality within the next six years. This is happening mainly because of a change in the mindset of CFOs and finance leaders and their increasing trust in newer technologies such as RPA and AI.
What is autonomous finance?
In an autonomous finance function, processes and tasks are not only automated with productivity software such as ERP or SAAS but also they are majorly operated by RPA and partially governed by AI within an integrated environment of the front, middle and back office operations. It also keeps humans in the loop, helping them to make decisions on real-time data and make them free from repetitive jobs.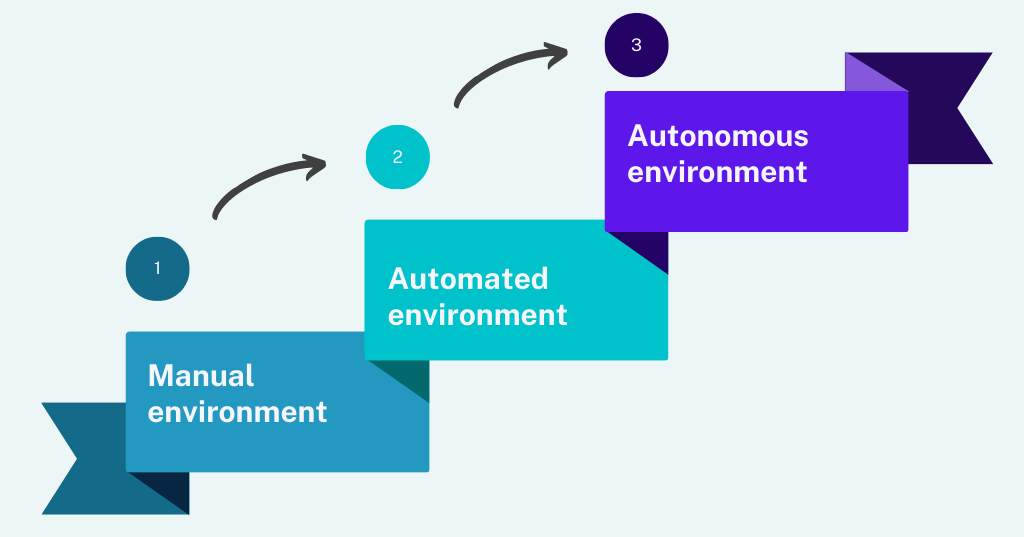 Let's take a scenario/case for better understanding.
Manual environment
One team member is collecting data from multiple sources such as email, database, and other systems and prepares a report on a spreadsheet or similar tool and sending that to the next worker who is analyzing the report and applying some business rules to take some actions such as sending emails, assigning tasks, etc.
Automated environment
In an automated environment, some data are collected via API and some may still be collected manually but a BI tool will generate reports automatically. The other worker will still be analyzing the reports but taking those actions in productivity software such as ERP or a third-party SAAS. It is more organized and controlled.
Autonomous environment
All data will be collected automatically either by RPA bot or via API and analytics will be generated and sent to an AI model automatically. The pre-trained AI model will apply business rules and prepare a set of actions for an RPA bot and trigger that bot automatically to perform those actions on ERP and other systems. Humans will be involved only when there is an exception that AI and RPA cannot handle.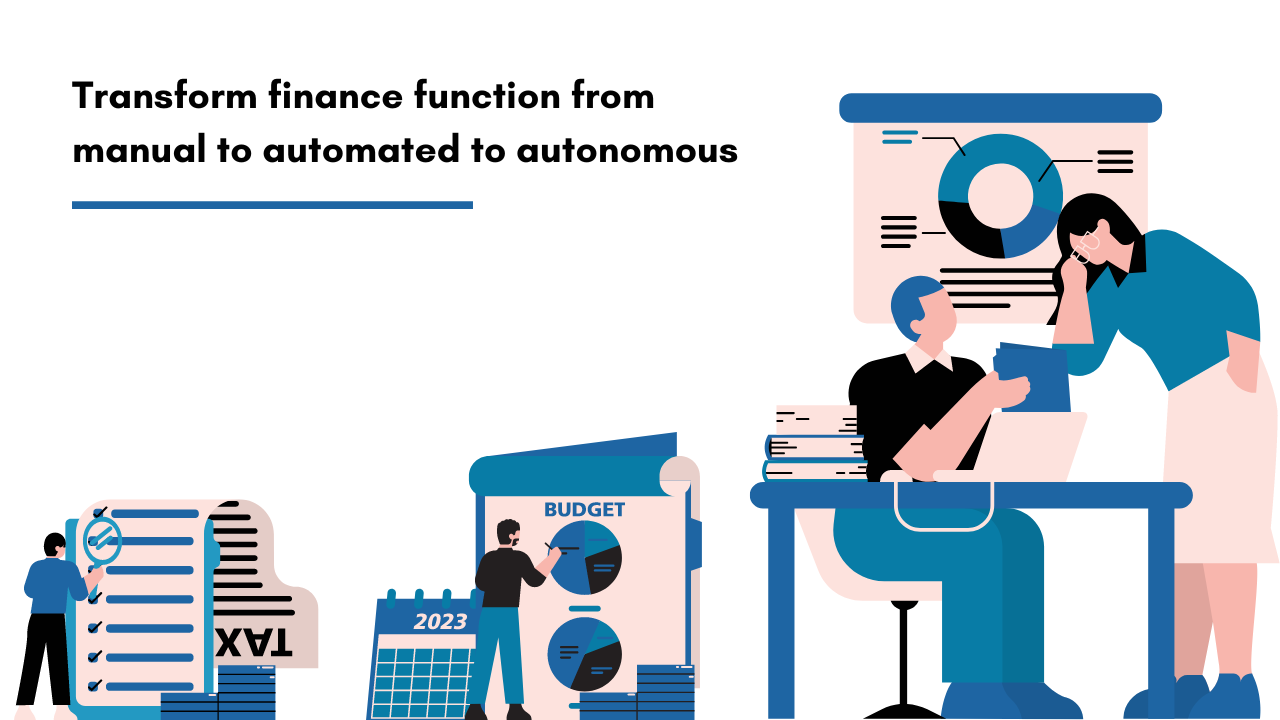 Step-by-step process to transform finance function from manual to automated to autonomous-
Assessment: Conduct a thorough assessment of the current finance function, including the processes that are currently manual, the technology infrastructure in place, the data management practices, and the skills and capabilities of the finance team.
Identify areas for improvement: Identify areas where automation and digital technologies can improve the efficiency, accuracy, and scalability of the finance function.
Develop a digital strategy: Create a digital strategy for the finance function that aligns with the overall business strategy and addresses the areas identified for improvement.
Implement automation: Implement automation technologies such as robotic process automation (RPA) and machine learning to automate repetitive tasks and improve data accuracy.
Implement digital platforms: Implement digital platforms for financial reporting and analysis, such as cloud-based systems, to improve data management and accessibility.
Enhance digital interactions: Implement digital channels for interactions with internal and external stakeholders, such as web portals and mobile apps.
Develop talent and skills: Develop the digital skills and capabilities of the finance team through training and development opportunities.
Monitor and review progress: Regularly monitor and review progress to ensure that the finance function is achieving the desired outcomes and make adjustments as needed.
Autonomous implementation: Implement autonomous technologies such as AI to further improve the efficiency, accuracy, and scalability of the finance function.
Continuously improve: Continuously monitor and improve the finance function to keep up with the changing business needs.
It's worth noting that this process should be tailored to the specific needs of the organization and may require different steps or different orders. It should also be flexible and adaptable to the continuous changes in the business environment.